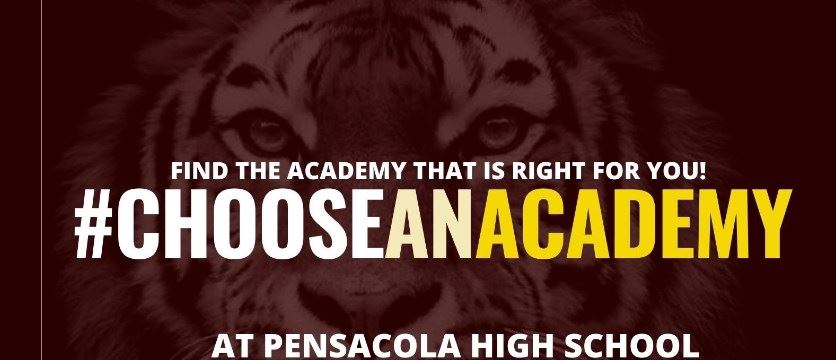 YOUR FUTURE IS YOUR CHOICE WITH CAREER ACADEMIES

Escambia County's Career Academies are small learning communities within middle or high schools that focus on a career pathway for a two, three, or four-year span. Through a voluntary application process, students must apply with parental knowledge and support. Students in a career academy take a mixture of career (usually one or two) and academic (usually three or four) classes each year. Classes meet entrance requirements for four-year universities. Students develop knowledge in a given industry and (in most academies) have opportunities to earn industry certification relevant to the career academy. Student's senior year may include work experience (paid or unpaid) in the community.
Career Academies at Pensacola High School

| Career Academy | Teacher/Instructor |
| --- | --- |
| Academy for Health Professions | Amelia Wiggins |
| Culinary Arts Academy | Charles Witt |
| Skilled Trades Academy | James Rich |
| Sports Medicine Academy | Megan Vallance |
| Welding - offered by George Stone | Joseph Moss |
Career Academy Enrollment Criteria

All students requesting acceptance into an academy must have a minimum of a "C" in core subject areas, and be seeking a standard high school diploma.
Disciplinary records must reflect no more than a minimal number of minor occurrences and an acceptable attendance history.
Upon acceptance, a student may continue enrollment in the receiving school through the end of the established school's level provided the circumstances upon which the transfer was granted remain unchanged.
Students granted a transfer must maintain acceptable attendance. If the student incurs excessive tardies or unexcused absences, the principal can request through the Office of School Choice for the student to be returned to his/her zoned school at the end of the school year.