Chromebook Information for incoming freshmen and new students

Tickets to events are purchased online. Use the link provided to purchase all BTWHS event tickets.

Escambia County Public Schools has implemented a new process that allows parents to choose their student's level of access to school library collections. Beginning May 1st, a parent may log into the Focus Parent Portal and choose their student's level of library access.

Update your information to stay informed!

The Escambia County School District arranges transportation and other services by referring to the address on file at your child's school. Please help us maintain accurate and timely service for your child, and ensure that we are able to contact you in the event of an emergency, by keeping your address and phone number current at your child's school.

Make sure that all contact and mailing information is up-to-date.
Helpful Articles & Information
The schools in Escambia County are established for the benefit of all students. The educational purposes of the schools are accomplished best in a climate of student behavior that is socially acceptable and conducive to the learning and teaching process. Student behavior that disrupts this process or that infringes upon the rights of other individuals will not be tolerated. See more information from our district.

Florida Student Scholarship and Grant Programs

This form creates a spreadsheet that the morning crew can access to get your announcements into the line up during the show. Please be thorough so we can get your announcement on, correctly.

Information on local schools from Florida Department of Education

What to Expect in the Event of a School Elevated Security Notification

Click the link to get information on a variety of assistance from our BTWHS Navigator

Parents and students - Stay informed on the latest updates and information from our Deans! Join the Deans Google Classroom today!

Google Classroom Code: ngdpwu5

Monitor student progress by setting up a parent portal account in Focus.

Contact Escambia County Transportation

If your student is absent, submit an absence verification form to our attendance clerk Melissa Mejia at mmejia1@ecsdfl.us

Information is provided pertaining to drunk driving and distracted driving.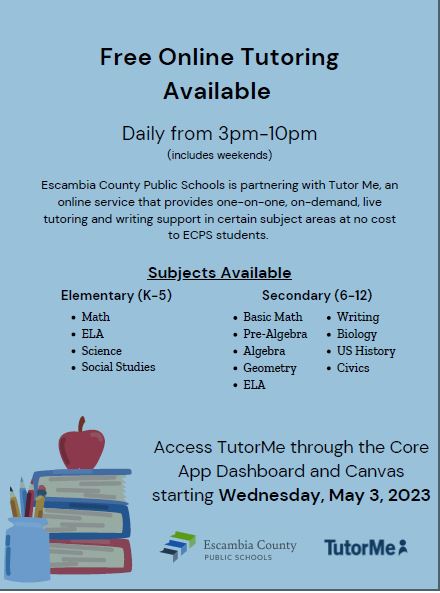 BTWHS Teacher of the Year 2023
Mr. Gary Horne, social studies teacher, is our 2023 Teacher of the Year!

Nominated and selected by our faculty, Mr. Horne goes above and beyond for his students and his coworkers. He is the first to offer advice, to collaborate on lessons, and to offer a helping hand in all situations. Mr. Horne makes it a priority to develop relationships with all of his students, which results in a positive and productive learning environment. Congratulations, Mr. Horne!
Why Choose Booker T. Washington High School?
Receive the most up-to-date weather information with our WeatherSTEM.