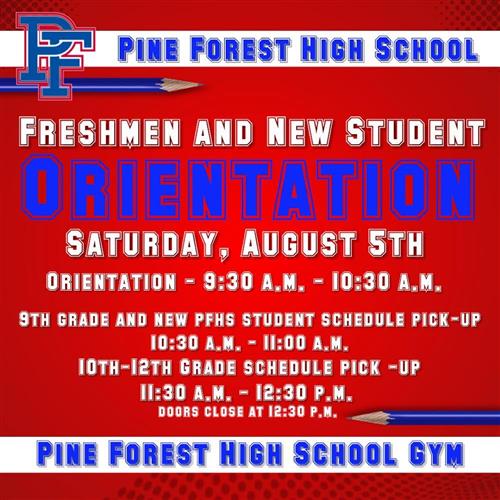 Click here to access the First Semester Exam Schedule!

Click here to watch a video tutorial on completing the survey

Congratulations to Director, Ronald Gray and the Supersound Band, for receiving a Superior rating for the first time in 13 years!

Congratulations to Ms. Whitney Meadows for being recognized as The Pine Forest 2023-2024 Teacher of the Year!

Pine Forest High School 2024 Graduation Date:

May 23, 2024

12:15PM

Pensacola Bay Center

PFHS has a new S2S Team! Check out our page!

Student2Student- A Military Child Education Coalition Initiative

Moms Volunteer for Progress is a girls' mentorship program that aims to provide guidance, support, and inspiration to young girls, helping them navigate academic, personal, and career challenges. We are seeking women mentors with relevant experience to offer advice, share their own journeys, and to assist mentees in setting and achieving their goals. We are hopeful that this kind of program on our campus will have a positive impact on building confidence and empowering young women as they prepare to transition into adulthood.

Join us for our first MVP meeting on November 1st from 5:30-6:30pm

Click here to join the Google Meeting!

Click here for the MVP interest form!

Click here for the Senior Parent Meeting

Important Senior Information (23-24)

Attention Parents:

On October 30th, the Federal Impact Aid will be posted on the Focus Parent Portal.

The link below shows how parents will complete the survey.

Canvas Corner for Parents!
Mission Statement:

We live this mission through our actions:
We unite employees around a shared commitment to the success of every student.
We create a safe, equitable, and accessible learning environment.
We empower students to break through barriers and overcome challenges to achieve their fullest potential.
We build learning environments that facilitate closing the achievement gap and increasing the learning
proficiency of all students.

Vision Statement:

Our purpose is to inspire, empower, and graduate students ready to contribute to society
as productive and responsible citizens.
We are United for every Student to Succeed.